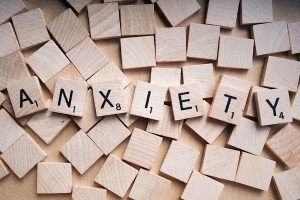 Everybody gets anxious from time to time and this is perfectly normal. But, when the anxiety, or panic attacks start to strike frequently, or intensely, and often completely out of the blue, then this is the time to start thinking about seeking help, treatment or therapy for that anxiety.
People suffer with anxiety for all sorts of reasons.  You may or may not know why the anxiety or panic attacks occur.  You may have specific times when you know the anxiety strikes such as in social situations or being too close to somebody or being on the underground.  Or you may have no idea what triggers this response.  Hypnosis helps you to regain control.
Hypnotherapy is one of the most effective treatments for anxiety, stress, social anxiety and panic attacks. It is possible to notice the difference after just one hypnotherapy session – although a minimum of a course of four to six hypnosis sessions is usually recommended to deepen your ability to relax and stay calm and ensure that it is a permanent response rather than a temporary fix.
By teaching you quick, simple and effective hypnotherapy relaxation techniques, and using visualisation exercises whilst under hypnosis you'll find the levels of stress, anxiety and panic attacks can drastically reduce.
Not only do my clients tell me how much better they feel but I can usually tell by how they look psychically.  Shoulders roll back, heads held high, a smile on their face and even a glow to their skin.
Hypnosis sessions for anxiety and held in Winchmore Hill, Grange Park, Enfield and surrounding areas.
Don't delay, give yourself a better chance by calling me for a no-obligation chat to see how hypnosis and a hypnotherapy session can help change your life and the way you feel.
07932 084 321 or email me
Hypnosis for Anxiety
I went to see Bridgette for anxiety and panic attacks which surrounded health issues. I have had more than my fair share of illness in my loved ones which had left me with a constant sense of fear about becoming ill myself. It was a nasty mixture of hypochondria and depression. The change began after my first session and was noticed by my friends and family straight away.
After my sessions with Bridgette I am now a calm, rational person again and I feel so much better. I no longer wake up feeling anxious and can cope with my whole life in a more calm and confident way.
After years of feeling like the anxiety was running my life I now have it under control and I am loving how I feel. I have never tried hypnotherapy before but can't recommend it enough. Thank you so much, the difference it has made is incredible.
Mrs L.H

Hi Bridgette,

I cannot believe the effects that you have had on me!

Hope you're ready for a big hug when I see you on Friday. Just writing to confirm my appointment at 1pm when I can tell you all about the immediate and progressing effects that you have done for me.

D.C